Registration form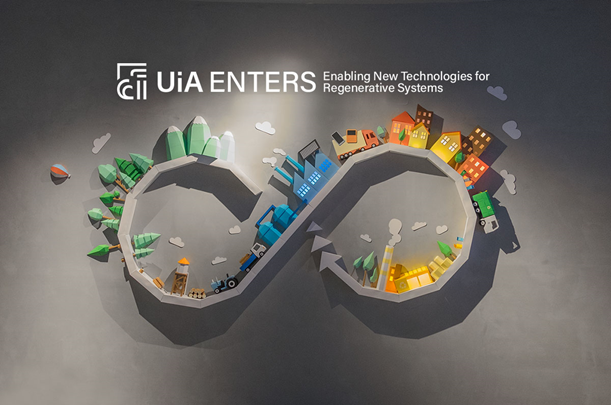 Welcome to the ENTERS UiA spring seminar on bioeconomy!
The spring seminar will take place on June 7th, 2019 at UiA Campus Kristiansand. The seminar will be preceeded by the launch of Agder Symbiosis with a workshop on biomimicry in the afternoon. Registration for each event is mandatory and you can sign up for one event or all three. Breakfast and lunch will be provided by ENTERS UiA (with registration) to all participants and all events are free of charge.
Schedule
8:00 - Breakfast and welcome
8:15 - 9:15 - Introduction to Agder Symbiosis
Enjoy your breakfast and learn about the formation of a brand new symbiosis platform in the Agder region.
We welcome guest speakers from Eyde Cluster, Klimapartnere, Aust and Vest Agder kommune and ENTERS UiA
8:15 Christophe Pinck - EYDE Klyngen
8:25 Hans Fløystad - Rådgiver i Aust Agder kommune
8:35 Øyvind Laderud - International adviser Vest Agder Kommune
8:45 Gunn Spikkeland Hansen - Prosjektleder Klimapartnere
8:55 Reyn O'Born - Director of ENTERS
9:05 Coffee break
9:30 - 11:30 - ENTERS UiA Spring Seminar on Bioeconomy
In our spring seminar, we will be entering the world of bioeconomy, where sustainable economic growth is supported by biological processes. We will have guest speakers on a range of bioeconomy topics from aquaculture, symbiosis, biogas from waste, and agriculture.
We welcome guest speakers from Høst, the Norwegian Centre For Circular Economy (NSSØ), Østfoldforskning, NTNU Program for Industrial Ecology, and University of Agder. Full program to follow.
9:15 - Helen Ann Hamilton - Postdoctoral researcher in the Department of Energy and Process Energy, NTNU
Introduction to bioeconomy principles and bioeconomy in the Norwegian context
9:45 - Torleiv Næss Ugland - Managing Director at Høst
Business opportunities in bioeconomy - Experiences from Høst
10:10 - Camilla Brox - Managing Director at Norsk Senter for Sirkulær Økonomi (NSSØ)
Symbiosis in Østfold
10:35 Coffee break
10:45 - Kari Anne Lyng - Researcher at Østfold forskning
Sustainable organic waste treatment and biogas production
11:10 - Helge Liltved – Professor at UiA
Introduction to aquaponics 
11:30 - 12:00 - Lunch
12:00 - 15:30 - Workshop on Biomimicry
In the afternoon, we will have a workshop on designing with biomimicry hosted by two visiting guest researchers from the University of Navarra, Spain and the Universidad de La Sabana, Colombia.
Biomimicry is an approach to design and innovation where biological processes, systems and structures within nature are imitated. The workshop will be focused on applying biomimicry in a real-world example.
All events will be held room B1-006, UiA Campus Kristiansand
Information
Place
UiA Campus Kristiansand
Time
Friday June 7th 2019 at 08:00 to 16:00
Deadline
Tuesday June 4th 2019 at 18:00
Activity is finished and you can no longer register.
Contact us
Please contact us if you have any questions or concerns.