Registration (registration form at the bottom of the page)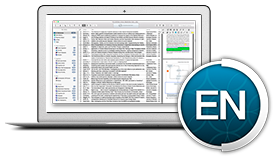 This course is for students who want an introduction to EndNote.
PS! EndNote must be innstalled on your computere prior to the course. There will not be time
for any help with installing the software at the course.


Click HERE for information on how to install EndNote on your computer.
If you have any questions regarding the installation, please contact the library service desk.
Learning outcomes
Prior knowledge expected
Participants should have basic knowledge about source references and the Citation Compass.  
After the course, you should know how to:
How to manually add a reference in your EndNote library
How to import references from ORIA to your EndNote library
How to edit the references in your EndNote library
How to insert citations in a word document
How to edit citations in a word document
How to change citation style
How to backup your EndNote library
After the course, you should be familiar with:
What EndNote is and what you can use it for.
The library's online resources on EndNote
The library's human resources on EndNote
The opportunity to share your library with others
The opportunity to create an EndNote web account
How to merge different documents with EndNote encodings
How to convert your document to plain text
Information
Time
Wednesday March 27th 2019 at 10:15 to 12:00
Deadline
Monday March 25th 2019 at 12:00
Contact us
Course provider: the university library
About EndNote
EndNote is a useful tool in keeping track of your references. The programme finds and imports references from library catalogues
and online databases and inserts references and references lists/bibliographies into your document. All your references will be
searchable when you create your reference list with EndNote
Online resoruces on EndNote:
https://www.uia.no/en/library/hjelp-og-veiledning/endnote